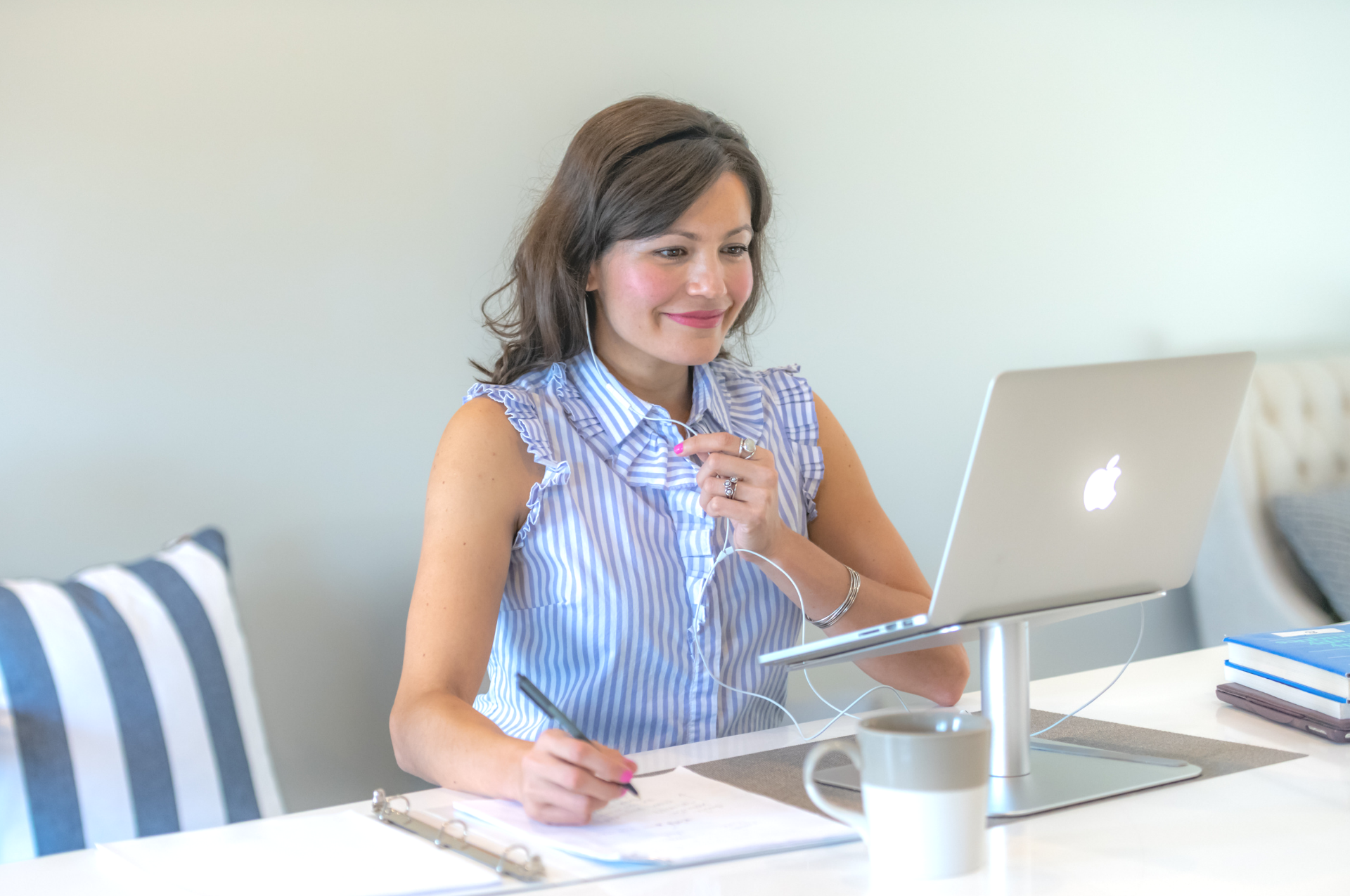 Effective, convenient, & confidential
Evidence-based, solutions-focused
Connect with a licensed, expert therapist from the comfort of your home
Connect virtually from the comfort of your home. All you need is a private, quiet space. Add your headphones, your laptop, and a strong wi-fi connection. Additionally, I use a HIPAA-compliant Electronic Health Records System; which means that all personal information is protected and confidential.
Online counseling and coaching works best for professionals & students who are motivated to "organize, process, and clarify" issues related to anxiety, stress, panic attacks, career burn-out, compassion-fatigue, and adjustment issues related to career and personal development. 
Having an unconditionally supportive therapist on your team is literally life-changing. You'll be able to reduce overwhelm and become more decisive by developing a plan of action that is sustainable and realistic.
With a therapist on your "speed-dial", you'll be able to check in anytime you like – whether it's once a week, once a month, or once every few months. You'll love that the goal is consistent support without anxiety-provoking commitments or contracts.
Do you accept Insurance for Telehealth?
Yes. Many people have some insurance benefits. And, many health insurance plans cover online therapy. However, each plan is different. We can discuss whether private pay, insurance, or out-of-network benefits work best for you during our phone/video consultation.  If you use insurance, there is usually a $20-40 copayment; and possibly a deductible.
In-Office and Online: $120 per hour
Some clients want more flexibility and choose to be "private-pay". I offer career, education, and dating/relationship counseling and coaching for clients without mental health issues who simply seek career, relationships, and personal growth mentoring. 
I accept the following insurances: 
ANTHEM BCBS
BLUE CROSS/BLUE SHIELD
CIGNA
HARVARD PILGRIM
OPTUM/UNITED
TUFTS
Please note: I will need to prove that counseling sessions are a "medical necessity" and provide a diagnosis in order to bill your insurance. I cannot overstate or create a diagnosis for the purpose of ensuring reimbursement. Also, I assess everyone for appropriateness during our initial consultation and provide referrals for higher-level of care when applicable.
Benefits of Online Telehealth
 Book your therapist "on demand"
 Schedule online 24/7
 Sessions on weekends and evenings
 Text, email, and call if you have questions outside of session
 Easy to use HIPAA compliant tele-health platforms from your home
 The most private way to get counseling – no office staff or waiting rooms
 Ongoing communication with a go-to expert on your speed-dial
 Keep your therapist – even if you move anywhere within New York or Massachusetts.
Many people have normal lifespan, relationship, cultural, and career issues. I work with high-functioning multi-passionate college & graduate students, residents, athletes, and professionals working in various domains from corporate to startup to academic. I help my clients develop their potential and find balance in their career and personal life.
Once you feel confident in your ability to make choices with the best psychology language and tools – you'll be able to connect and contribute in a way that is aligned with your values. Outcomes include developing the mindset skills to look at the big picture of your life. You'll gain the clarity to create an action plan that is realistic and sustainable – thus, improving your financial, career, and relationship success. Working with an experienced counselor will give you the skills and tools to enjoy the first-rate version of yourself in relationships, career, and life.
Having a smart support team that works for you is literally life-changing financially and psychologically. With a coach on your "speed-dial", you'll be able to check in anytime you like – whether it's once a week, once a month, or once every few months. The goal is simplicity and convenience without stressful commitments or contracts.
What Does Coaching Help With?
"Coachy" counseling is for people who function effectively in their occupation, academic, and social life; however, they are seeking guidance in developing financial, career, and relationship goals. Goals of coaching are to improve your clarity, focus, happiness, and confidence. Online counseling coaching works best for high-functioning professionals & students who are motivated to work on issues related to:
Career Coaching
Professional Development

Branding
Leadership Skill Building
Work Dynamics
Work-Life Balance
Relationships
Dating & Marriage Coaching
Healthy Relationship Skills
Inter-dependence
Abundance Mindset
Personal Growth
Lifespan Development
Boundaries
Assertiveness
Coping Strategies for Success
Performance
Sports Psychology

Group Dynamics
Mindset Assessment
Self-Efficacy
Interactive Rehearsal
What does Counseling Help With?
Online counseling is effective for many types of therapy, including anxiety, grief, stress, trauma, and adjustment issues related to career and personal development. Online counseling therapy works best for professionals & students who are motivated to work on issues related to:
Generalized Anxiety
Trauma Recovery (Acute Stress Disorder, PTSD, Complex-PTSD)
Mild Depression
Grief and Loss of a Family Member
Adjustment to a recent stressor or transition
Past Victim of Domestic Violence or Sexual Abuse
Issues interfering with social and occupational functioning
Job-related stress
Intimacy and Sexuality Issues
Stress issues that are non-life threatening.
Adverse Childhood Experiences
Some types of Process Addictions
History of Dysfunctional Family Dynamics
Codependency
Some types of ADHD
Some types of Autism-Spectrum (ASD) such as Aspergers
NT partners of clients w/ ASD "Cassandra" Syndrome
Caregiver Support
Online counseling is not recommended for severe mental illnesses that require a high-level of medication management such as: schizophrenia, schizo-affective, paranoid personality disorders, impulse-control disorders, recurrent/severe bi-polar disorder, recurrent/severe mood disorders, eating disorders, suicidal/homicidal thinking, and substance abuse addiction (I'll recommend partial outpatient services with a medical provider due to the high level of risk in withdrawal). Or other environmental issues such as: current domestic violence or recent sexual assault (I'll recommend your local DV agency due to their excellent comprehensive services). I provide referrals for these higher-level of care issues to specialists and local agencies.
Evidence-based therapeutic modalities such as ACT, CBT, CPT, DBT, MSBR, reality-therapy, interpersonal, family systems, and other therapy interventions work seamlessly online. Interventions range from learning expert interpersonal skills; to developing leadership skills. As a licensed clinician with over 10,000 hours of in-person and online experience, you can be assured that you'll have my best counsel and guidance. Get the essential psychology skills to set the foundation for a lifetime of clarity, confidence, and success!
 Let's "Get Started" with a video consultation!